Rimini's gastronomic tradition is rich and diverse, which you may enjoy foods in the city's best restaurants. You'll need to leave your hotel and eat where the locals eat if you want to sample the best Romagna food during your Riviera vacation.
Try meat and fish meals made using Adriatic and backcountry products and vegetables. Pair your meal with a glass of wine made from high-quality grapes grown in the mountains. Montefeltro truffles, mushrooms, and regional specialties like Formaggio di fossa (semi-soft cheese) and busting could all be part of your gastronomic adventure (polenta and apple cake). Do you want some recommendations for traditional Rimini cuisine and where to sample them? Here are some of Rimini's top local eateries where you may sample the Romagna region's delicacies.
1.Guido A seaside brodetto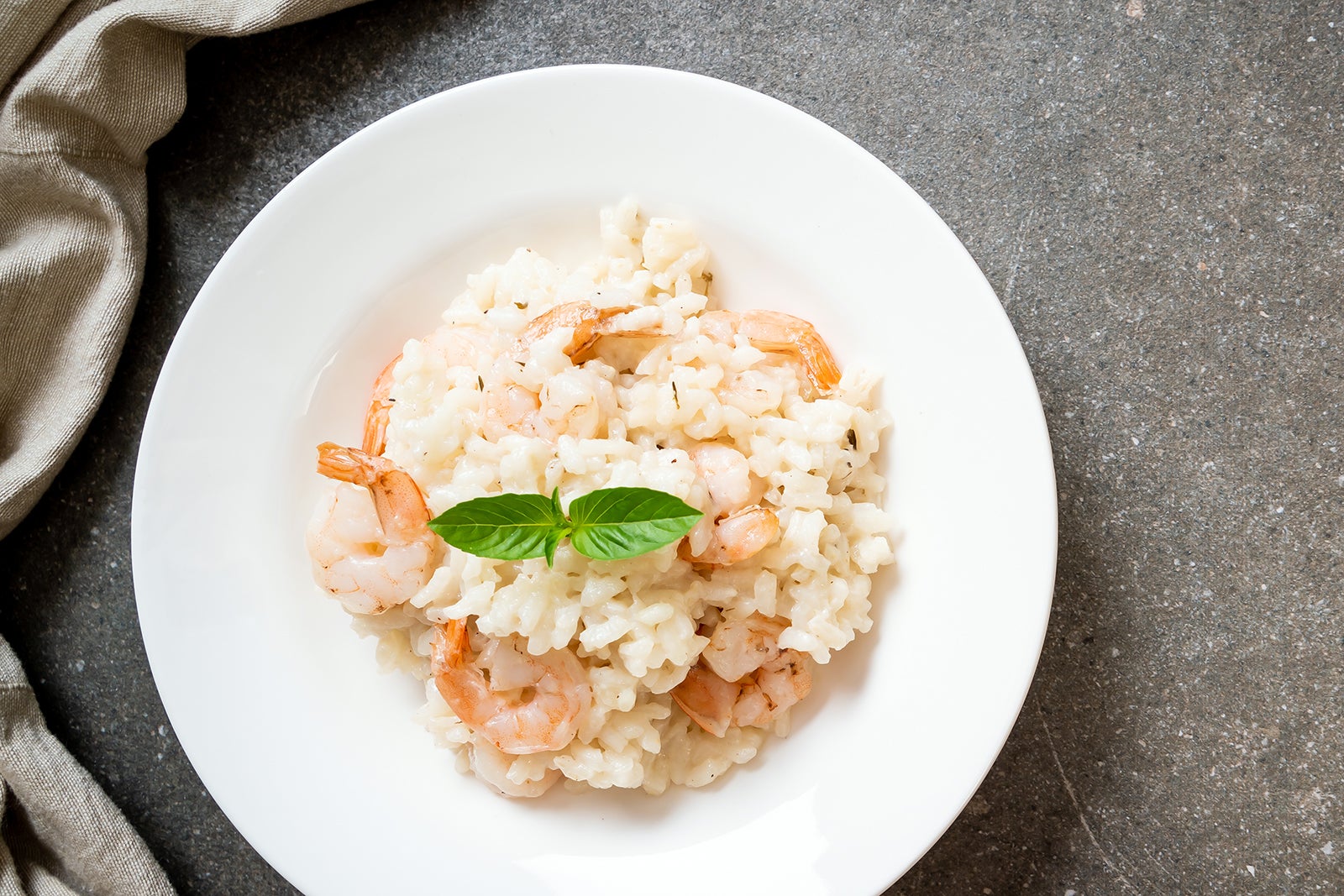 – Great for: Foods
Ristorante Guido on Miramare Beach is a nice spot for a delicious lunch or dinner with stunning views of the sea. Choose from the à la carte menu, which features Adriatic ingredients, or the tasting menus, which include house specialties.
Brodetto is a traditional Riviera Romagnola delicacy. This soup has working-class roots but is now a staple of elite chefs' menus. It used to be made from fish that were too little or of poor quality to sell and were brought home by fishermen to their families because Every hamlet along the coast of Romagna has its own recipe, and the ingredients change with the seasons. However, there is one universal rule: A minimum of a dozen different types of fish must be used.
Location: Guido Spadazzi Lungomare, 12, 47924 Rimini RN, Italy
Open: Every day from 12 p.m. to 2.30 p.m. and 7 p.m. to 10.30 p.m.
Phone: +39 0541 374 612
2. Try their homemade egg spaghetti – Brodo di Giuggiole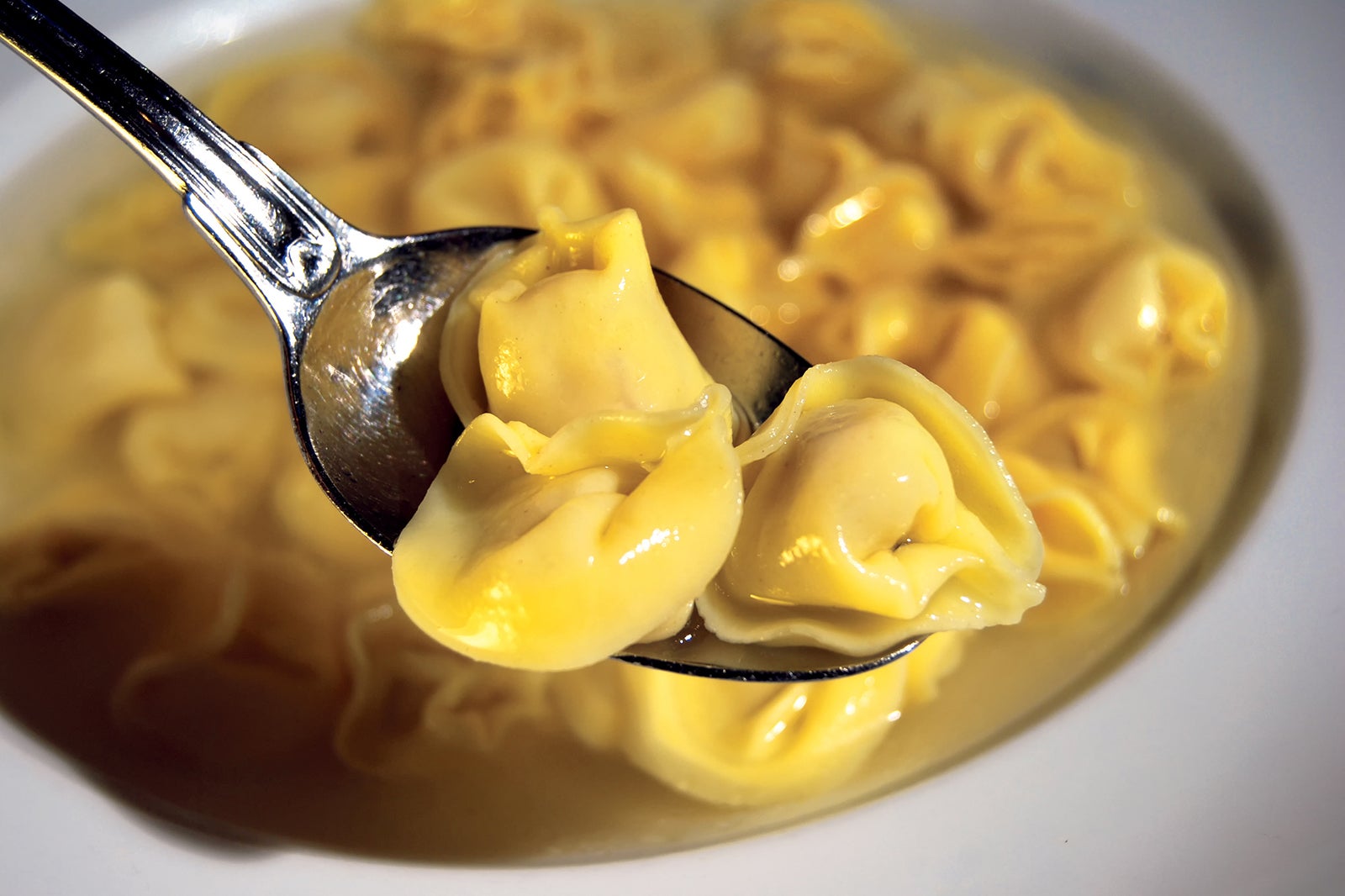 – Great for: Foods
Osteria Brodo di Giuggiole in Rimini's center is a great spot to go for homemade egg pasta and classic cappelletti (stuffed, hat-shaped pasta). They make their dough using stone-ground flour, as is customary. The ingredients and sauces for the pasta change according to the season but they are delicious.
Wild mushrooms and seasonal vegetables, Montefeltro truffles, wild boar, and rabbit are all on the menu. The cheeses are served with chutneys cooked from scratch. Sangiovese, Cabernet, and Rebola are among the local red and white wines available. Remember to stop by the earthenware and stone room beneath the main dining area between courses to see an antique fo cone that was once used to chargrill meat.
Location: 47921 Rimini RN, Italy, Via Soardi 11,
Open: Every day from 12 p.m. to 2.30 p.m. and from 7 p.m. to 10.30 p.m.
Phone: +39 0541 26 778
3. The best spot to enjoy porchetta coniglio – Zi' Teresa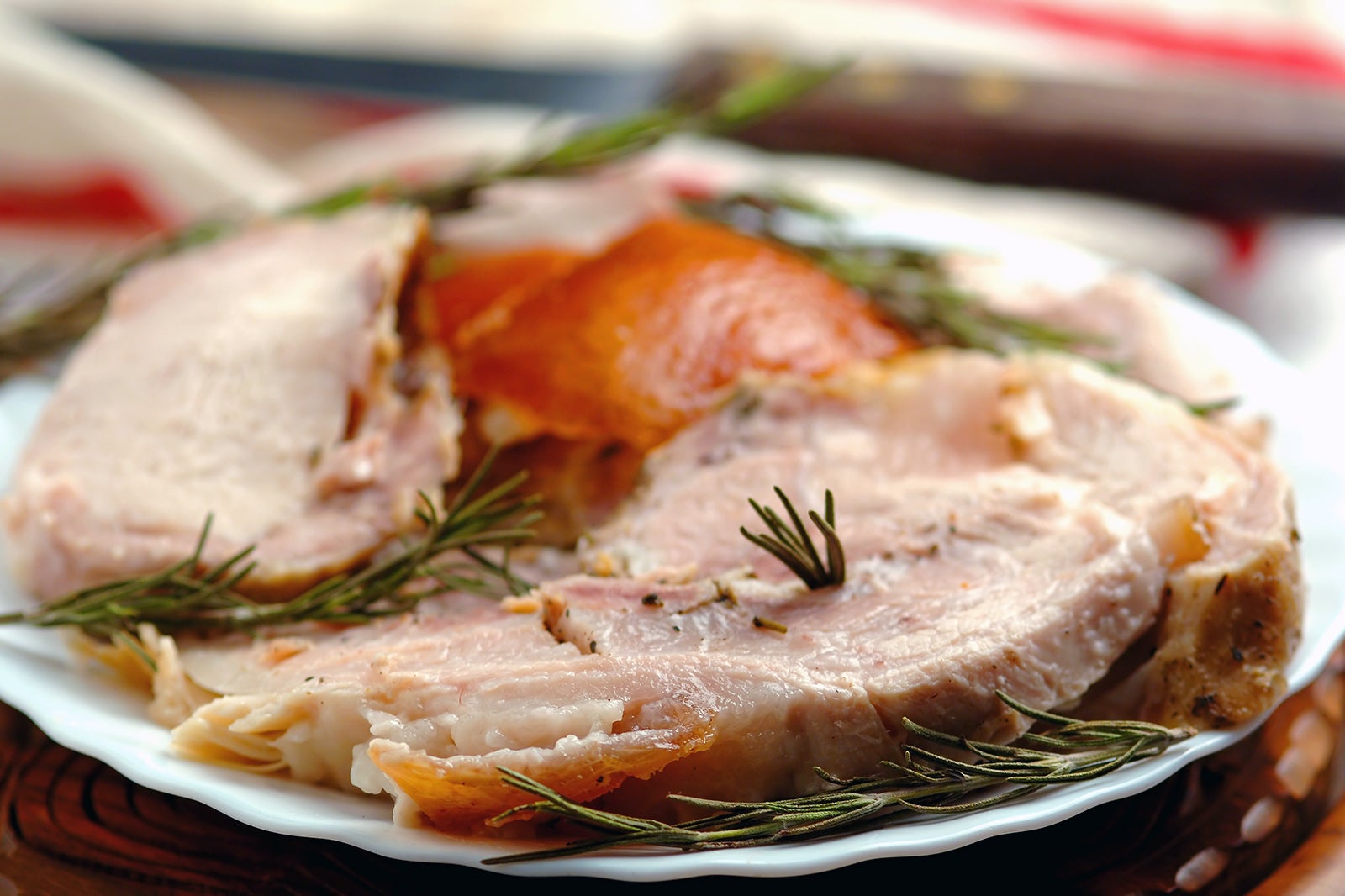 – Great for: Foods
Ristorante Zi' Teresa is a small town restaurant around a half-hour drive from Rimini. It's the ideal occasion to try a local specialty: porchetta Coniglio (rabbit in spit-roasted pork). The beef is packed with chopped garlic and wild fennel, giving the dish its distinctive flavor. When it's done, it'll have a crispy crust on the outside and a soft middle.
The rates are reasonable and there are several meals to choose from. There is also a well-known vegetarian menu for Imbufaliti pasteli (homemade pasta with eggplant, cherry tomatoes, and beef mozzarella). Alternatively, there is a 100% vegetarian buffet for everything from hot and cold appetizers to desserts.
Location: Rimini RN, Italy, Via Valliano, 31, 47854 Montescudo
Open: Tuesday to Sunday, 12 p.m. to 3 p.m. and 7 p.m. to 12 a.m.
Phone: +39 0541 984 312
4. On a lovely deck, savor grilled seafood – Alla Buona Ristorante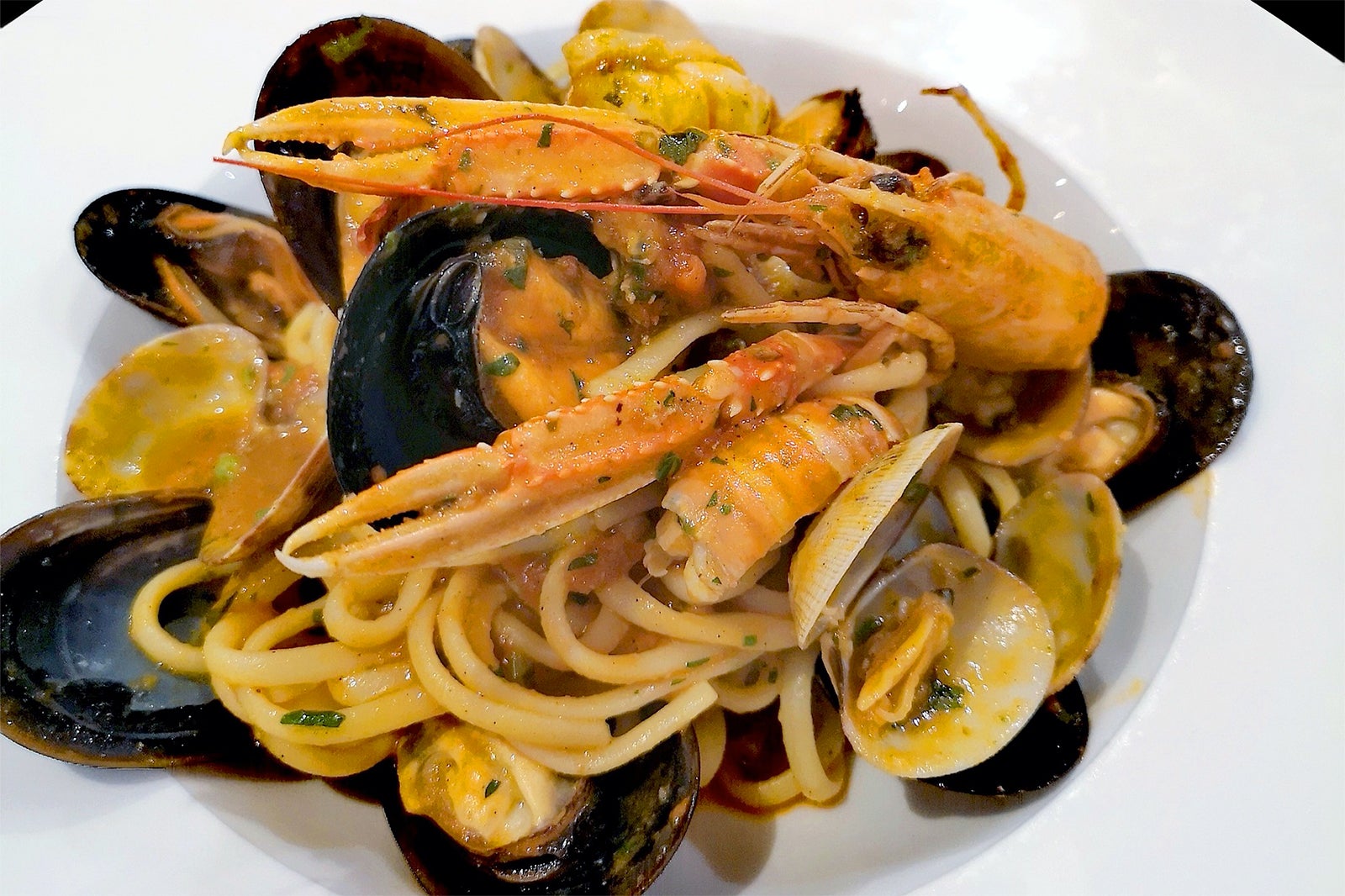 – Great for: Foods
Alla Buona is a charming restaurant with a beachside terrace, conveniently located near Rimini's lively streets and nightlife. Ristorante Alla Buona, located on the seashore near the port and also provides an ideal setting for your evening. Outside, there are open barbecues for cooking meat, and you may select your fish from a display case. The grilled beef is appealing, but fritters mista is another specialty (mixed fried seafood).
strozzapreti allo scoglio (twisted pasta with shellfish), spaghettone all'astice (thick spaghetti with lobster) or gnocchetti con vongole sgusciate, gamberirosa e calamari are also just a few of the delectable homemade pasta options (mini gnocchi with shelled clams, red prawns and squid).
Location: 47921 Rimini RN, Italy, Via, Lungomare Claudio Tintori, 11,
Phone: +39 0541 411 710
5. Discover a Montefeltro delicacy near Rimini – Sant'Agata Feltria white truffle festival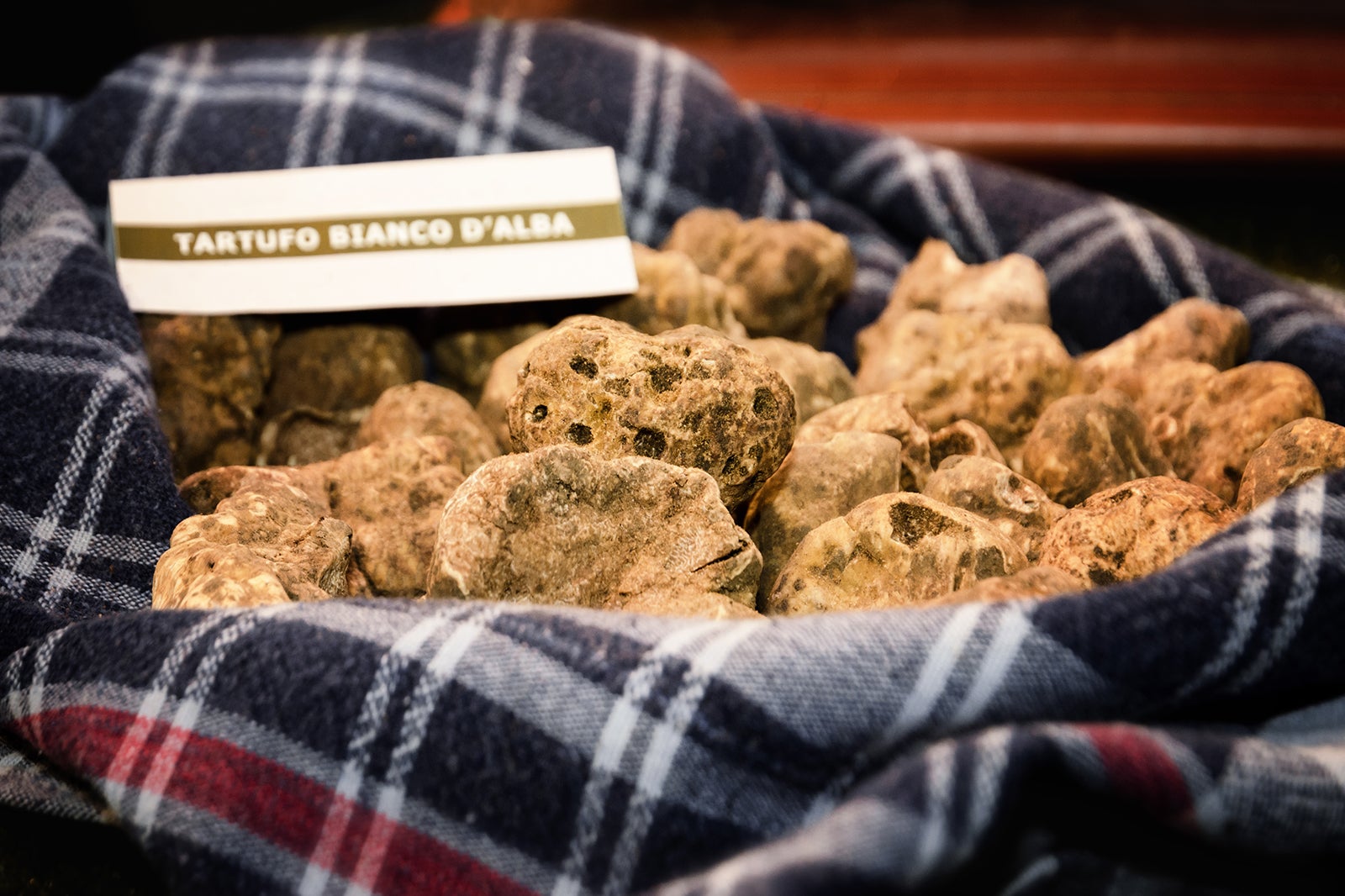 – Great for: Foods
A region noted for truffles, particularly the highly valued and sophisticated white truffle, is located inland from Rimini. This particular fungus naturally develops on the edges of crop fields, in broad-leaved forests, and near isolated plants in Montefeltro. Different truffles bloom at different times of the year. The white truffle, the most sought after, grows in the autumn amid oak and hornbeam trees. From November to March, black truffles are in season. The burgundy truffle and tuber bronchi, which are less esteemed, come to life in the spring.
A white truffle festival is held every Sunday in Sant Tin Sant Agatha Feltaria, 50 km from Rimini to get these taste and aroma samples. Discover booths, handicrafts, and performances, as well as specialties in the back rooms of restaurants.
Location: Sant'Agata Feltria, Rimini RN, Italy 47866
6. Drink wines from the Romagna region – Wines from Cagnina and Albana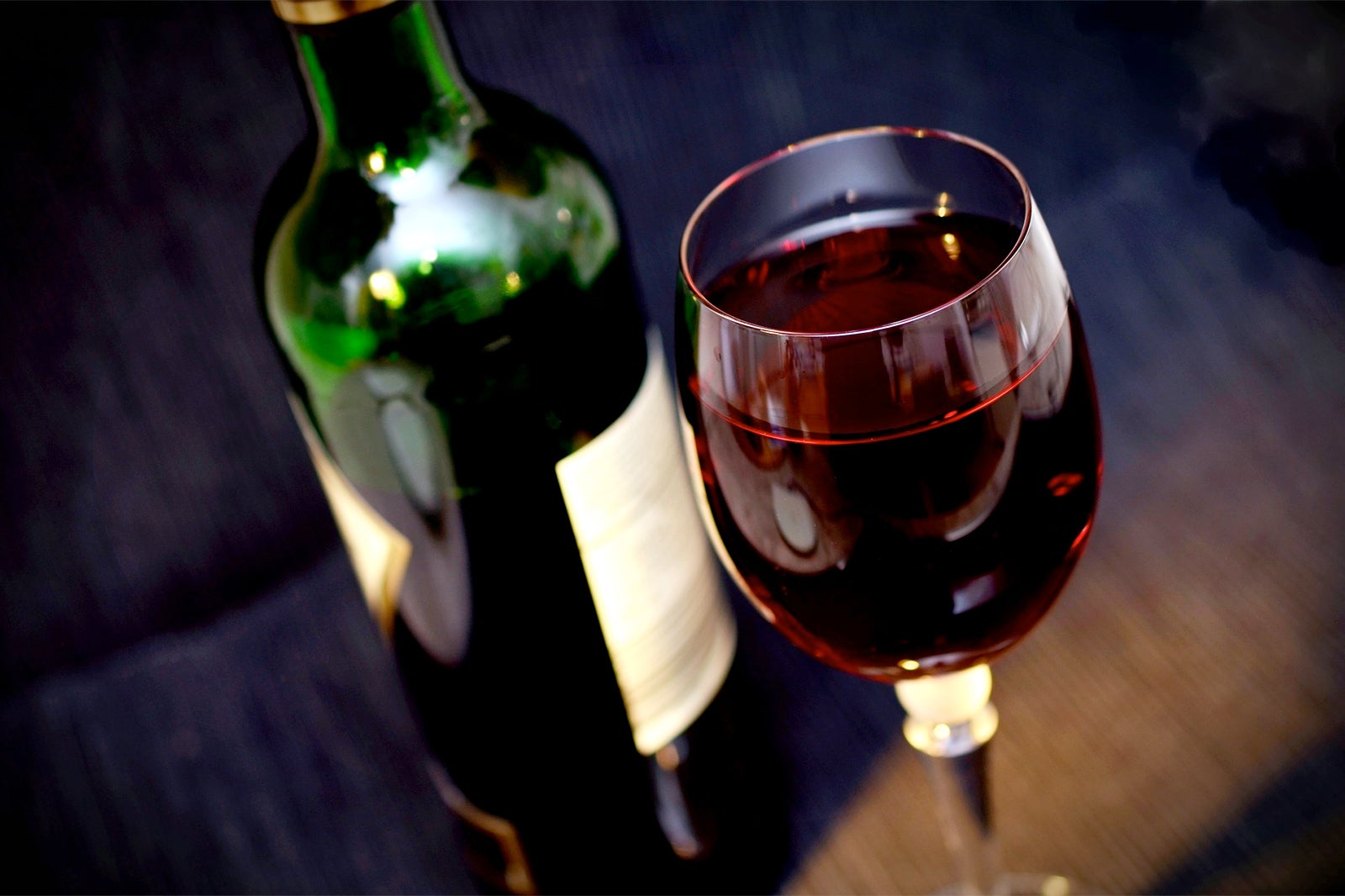 – Great for: Foods
Wine connoisseurs will love Romagna brands, and every meal in Rimini is an opportunity to sample the best vinifications. Open a bottle of Cagnina, a red wine from the provinces of Forli, Cesena, and Ravenna. It pairs well with fresh cheeses and sweets because of its sweet, full-bodied flavor.
Albania is another colour that is typical of this area. It has a spicy flavor and is available in both sweet and dry variants. Fish, rabbit, and fowl go well with the dry version, while Formaggio di fossa goes well with the sweet (pit-matured cheese). Amatori, a huge wine cellar in Rimini's center, will suit all of your wine demands, including sampling and purchasing Romagna labels. Podere Vecciano in Coriano is a great place to learn about the inner workings of a winery.
Location: 47923 Rimini RN, Italy
7. Satisfy your desire for grilled fish – La Marianna Trattoria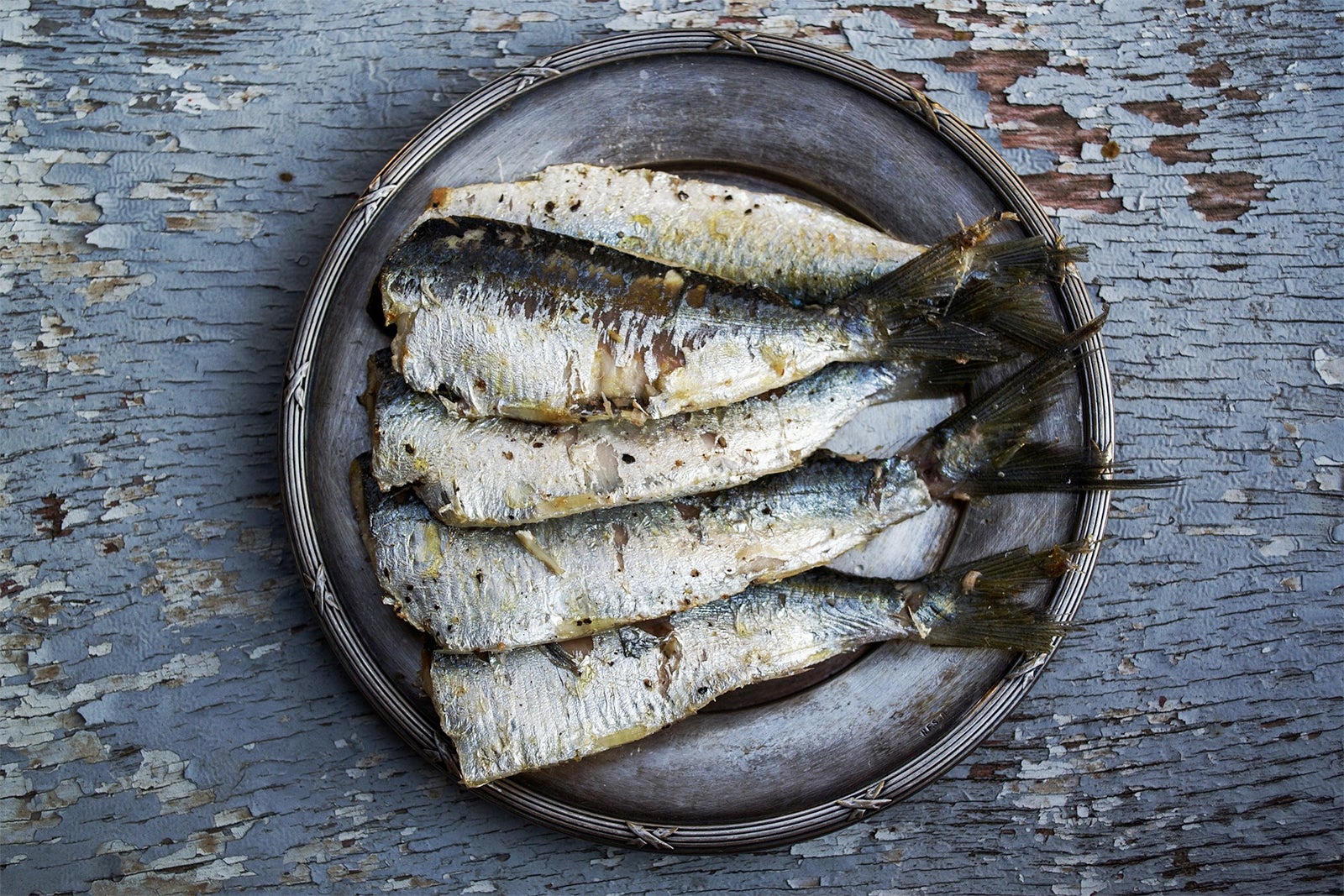 – Great for: Foods
– Photo
La Mariana is an attractive dining area in Rimini's fishing neighborhood. To get there, climb the Ponte di Tiberio (Tiberian Bridge), a continuation of the Decomnus Maximus where Roman Rimini grew up. This leads to San Giuliano, a historic fishing village between the sea, the Moroccan River, and the Porto Canal.
It's all about the sea in this town. Wooden furniture and a blue-and-white color scheme are used throughout the dining spaces and also on the balcony. The bar is housed in an antique port boat. Grigliata mista cotta alla brace (mixed grilled seafood) is a must-try: the fish changes every day depending on the catch.
Location: Rimini RN, Italy, Viale Tiberio 19, 47921
Open: Every day from 12.30 p.m. to 3 p.m. and from 7.30 p.m. to 11 p.m.
Phone: +39 0541 22 530
8. Here you can get formaggio di fossa. It is the restaurant's crowning achievement – Locanda dell'Ambra
– Great for: Foods
Stand on a hill in the picturesque village of Thalamelo in the interior of Rimini (pit-mature cheese) and try the Formaggio di Fosa at Locanda del Ambra, surrounded by chestnut trees. They serve high quality, locally sourced fees and provide an unparalleled experience with attention to detail. The restaurant is built on cheese pits and the walls are made of local stone.
A holiday in Rimini is a great opportunity to sample this unique flavor. The unique taste of this cheese comes from the aging of the sandstone and the covering with straw. This time-wasting technique gives excellent results: a strong flavor with a distinctive herbal aroma goes well with honey, jam, and balsamic vinegar.
Location: 47867 Talamello, Rimini RN, Italy, Piazza Giuseppe Garibaldi, 28
9. The location where you can sample a dessert composed with 30 components – Zaganti Trattoria
– Great for: Foods
– Couples
– Food
– History
– CouplesFoodHistoryPhotoBudget
A visit to the historic village of Verruccio is a good reason to dine in Trattoria. They serve regional specialties such as the Bustarengo, a lowland species of Romagna. It has more than 30 components and comes in a variety of flavors. To make the most of what was left, they made a habit of arranging combinations of whatever was in the cupboard.
White and polenta flour, milk, eggs, butter, and dried fruit, and nuts such as walnuts, almonds, and figs are the main ingredients. Honey, lemon and orange rind, and raisins round out the list of components. It also has a unique flavor due to the addition of wine. You will guess what is inside each bite.