A brief guide to what Magisk is and how to install it.
The open-source feature of Android OS has attracted the attention of many Android enthusiasts. From customized ROM to various MODs; You name it. The community has an answer to everything.
Magisk is one of the miracles of community efforts and has become a key asset for enthusiasts to root their Android devices. What is Magisk? How do I install Magisk and root Android using Magisk? You can find answers to all your questions in this article.
When you buy an Android device, you fully own it and can use it to do anything you want. This is one reason which makes me buy Android over iOS. Of course, IOS also has its own advantages, such as ecosystem and privacy functions, which may be the reason why most people choose iPhone, but according to my view I believe open source software is the way to go, and Android and Linux are some good examples.
What Is Magisk?
If you've ever thought about rooting in your phone or modifying some aspects of your phone, you've probably heard of Magisk.
Magisk is a tool Developed by topjohnwu, that can help you easily establish a root for Android devices. Magisk is a system-free root method that can modify the Android system without actually modifying it. In layman's words, this is a clever way to fool Google's safety net.
Imagine Magisk as a child at school. When he was there all the time, he acted as if he were not in class. Magisk tricks Google's Safetynet which is an API for starters that can detect whether your phone is rooted or not. Therefore, in order to prevent malicious attacks on your device, it will prevent specific applications from working.
Unlike Kingo root APK, one tap rooting solution for Android 5.0 or less, Magisk APK download or Magisk root APK does not exist. You need to flash the Magisk zip in the custom restore.
Magisk Modules
The community is keen on more than just rooting. There are device-specific Magisk modules that can be installed in minutes to add new features.
For example, when I bought the Redmi K20 pro, I was very upset about the lack of stereo speakers (dual speakers). As I used a Pixel 2 XL, I always felt that there was no stereo speaker; Therefore, I visited the XDA Developer Forum and found a module that supports stereo speakers.
Of course, this is not limited to stereo speakers. If your device has good developer support, you can install many other modules.
How do I use Magisk for rooting?
Be careful -what you are going to read. It should be at your own risk. We are not responsible for any damage to your equipment. You can only continue if you are willing to take risks.
Is it safe to install Magisk? Yes, exactly. If you really know what you're doing, you should be happy to do it.
Before you go through the installation section, everything sounds simple. Don't get me wrong. Installing Magisk is not rocket science, but for beginners who try this technology for the first time, if you screw up something in the installation process, it may eventually lead to equipment damage.
The root process may vary due to many factors, such as the SoC of the mobile phone, device manufacturer, and developer support. This guide will show you how to use Qualcomm snapdragon processor, official custom recovery support (TWRP, Orangefox, or SHRP), and A- partition only device (not A / B partition to establish a root for the device. If you want an article related to this, please let us know).
Steps to install Magisk: installing custom recovery
Each Android device has a recovery installed. As the name suggests, if the phone fails the recovery function can help you restore the phone to work. For example, if you forget the password/pin of the device, you can reset the phone using the recovery function. However, there are very limited things you can do with default recovery.
Team Win Recovery Project (TWRP) is a custom recovery that you can flash to your device to access various additional options to help you repair your phone's storage, inventory software, etc. Thanks to the open-source feature of TWRP, the recovery of orange Fox and SHRP is the same by-product. Here is how to install TWRP on Android devices.
Before we start the unlocking process, you need to download the TWRP image file of the device and install the ADB driver. In addition, you can download the latest version of Magisk in the release section of the official repository.
What Is a Bootloader?
The boot loader is responsible for firing up the kernel on the device. It acts as a barrier between you and the kernel and is responsible for binding its trust root.
Unlock the boot loader.
Go to device settings.
Go to "About devices" and click the build number 7 times until you see a toast with "developer options enabled".
Return to the main settings page and scroll down to find the new developer options menu.
Enter the menu and scroll down until you find the OEM unlock and USB debug switches and enable them. This will allow you to unlock the boot loader for the device.
Read –how to enable Android Developer options, USB debugging, OEM unlocking?
Unlocking The Bootloader
Connect the phone to the computer using a USB cable and authorize the device when prompted. Then type the following command to check whether your device is recognized through the Android debugging bridge.
adb devices
You may see such output
3a45764d device
Although the OEM unlock option can be enabled immediately on most devices, if you have Xiaomi devices, you may need to wait 3 days or even 2 months on some devices.
(Typical boot loader menu (left) Xiaomi boot loader (right))
Now it's the main part. To enter the boot loader of the mobile phone, that is, FastBoot mode in Xiaomi device, you need to press and hold the power and volume down button until you feel the vibration.
After the phone boots to the boot loader, you need to type a command in the terminal.
fastboot devices
You might see this output.
3a45764d fastboot
If you do not see any output or display errors, the ADB driver may not be installed correctly and needs to be reinstalled. To unlock the boot loader, type the following command. Note that this will delete all data.
fastboot OEM unlock
The boot loader is now unlocked and your device will now boot in a new way. Now go to settings again and enable USB debugging and OEM unlocking. Authorize your device to your computer, and then type.
adb reboot bootloader
It will take you to the boot loader again.
Flashing TWRP
To install TWRP, use the command line to move to the directory where the TWRP image is saved, and then enter the command.
fastboot flash recovery recovery .img
This will refresh the TWRP recovery. Now press power and volume up to boot to the same mode.
How to install Magisk: refresh Magisk zip
Well, if you succeed in this step, pat yourself on the back. Get stuck? The staff of XDA developers always serve you. Just search the questions you face or ask in the forum. Otherwise, please mention this in the comments section below.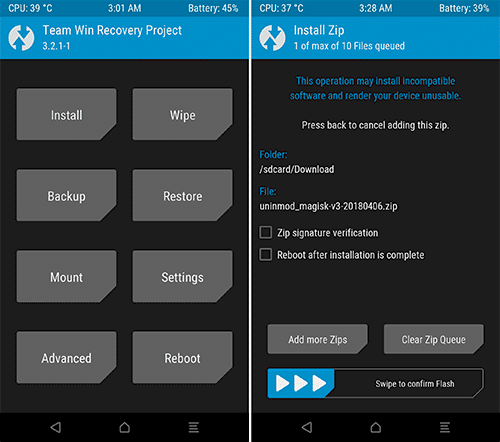 In TWRP, tap the Wipe option and slide to factory reset. Then on your computer, Download Magisk zip from its official repo. Transfer the zip file to the phone's internal memory.
Now, go back to TWRP's home, click Install options, find Magisk.zip, click it, and then slide to refresh the zip.
Restart or Reboot the system from TWRP. Once the device is started, you can now see the Magisk manager in the application menu.
Steps to Install Magisk: What Is Magisk Manager?
Magisk manager is the front end. As the name suggests, it manages Magisk. You can use it to search for and install new Magisk modules and manage root permissions in your application.
After manually reflashing Magisk, you do not need to install Magisk manager, but if you accidentally delete it, please go to the official repository to download Magisk manager.
Some Best Magisk Modules
In addition to common modules, there are also some device-specific modules. Pix3lify, Greenify, Xposed framework, and viper4android are some of the best Magick modules.
If you want to read a special article on the best Magisk module, please be sure to let us know.
Now, if you encounter a boot cycle (the device refuses to boot and always displays the manufacturer's logo), you can boot to TWRP and try installing Magisk again.
Summary
Magisk is not only a rooted software but also an amazing tool for people who are keen to change Android devices. Installing it may involve complex problems, but once you get used to it, the sky is the limit. If you want to learn more about rooting, jailbreaking, or customizing ROMs, be sure to check out our article, which briefly explains this.
If you have any questions, please let us know and we will reply to you as soon as possible.